Family Members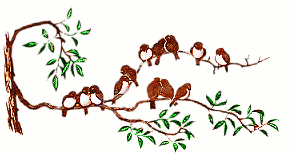 Home ~ Next ~ Album ~ Back
---
Memories & Stories - I've asked my aunts, uncles, and cousins to submit any stories or memories they'd like. Because this is a fresh endeavor, we have yet to collect anything for publication.

I would like to thank Una Mae for her memories of Donner. I remember my Dad mentioning in passing these things, but because I was a child it held no interest for me. I deeply regret that I did not ask him the many questions on my mind now when I had the opportunity.

Family Bulletin Board: - Despite a valiant battle against leukemia, Cousin Paul passed away in the summer of 2003. He will be missed.
In future I hope to have postings of happy family events such as engagements, weddings, births, baptisms, anniversaries, vacations, or just plain "hello to you all" notes.

The family is also invited to post bereavement notices when appropriate.
Contact Webmaster

Home ~ Next ~ Album ~ Back
This site copyright DuBois Dynasty © 2008, all rights reserved.
U.S. Copyright Office http://www.lcweb.loc.gov/copyright/
border & buttons courtesy of http://www.rhio.gillis.net